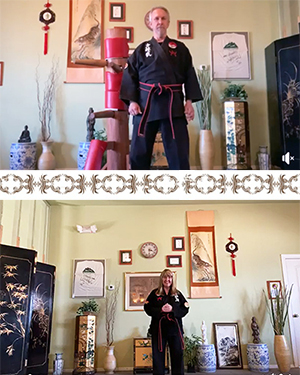 Nimen Hao & April Greetings Denver Shao-Lin Students,
Sr ElderMaster Sharon and I hope that ALL of you are doing well, and staying healthy and active during these quite unusual times.
As most of you know, we were ordered by the Governor of Colorado to "CEASE" all in-person classes/instruction on Monday March 16th, 2020.
And this IS the 1st time, in the 40+ years that we've been teaching Shao-Lin Kung Fu / Tai Chi / Wooden Man / Dragon Meditation that we've ever gone more than 1 day (snow blizzard, etc) without the school being OPEN for classes.
So, once we realized that we wouldn't be allowed to offer the Art in-person, we immediately began a very steep "learning curve", and started teaching ALL Levels of Shao-Lin Training OnLine!
By the 1st Day of the BAN!!!
We appreciate all of you for your Dedication / Spirit / Enthusiasm for joining us for this Journey.
Shao-Lin, like in days of old, have always found a way to persevere, and preserve this most precious gift – Kung Fu / Tai Chi!
Now that we are finally getting our feet on-the-ground, so to speak, and becoming more comfortable with OnLine Classes & Instruction, we will hopefully keep ALL of you, from White Belts to 8th degree ElderMasters, on-track with your training and preparations towards your next advancement. Whether it is this coming up summer 2020, or a bit farther down the road?
Below is a List of All 6 (at present*) Denver Shao-Lin Student Groups offering various Levels & Areas of Training.
(* Invites to the Dragon Meditation / Beggar's Bowl & Stick / 3rd Road of Hua will be sent out soon, as well)
For All of our Brown & Black Belts, training along with the Lower Belt & Tai Chi Groups, is a GREAT way to polish and master your "Basics", as you continue to learn "new" material, as well.
If you currently have an "active" Denver Shao-Lin membership, and have not received an INVITE to a Group appropriate to your Level, please do FB message me below, on my personal FB page.
And if you/re not certain if your membership may have expired, again message us, and we can confirm.
You can renew/update your membership: Renew/Update Membership
Also, if you need to update a Wooden Man membership, Dragon Meditation, or "sign-up" for a Festival/seminar such as:
7 Star Sword
3rd Road of Hua. etc.
Feel free to go on the www.Shao-Lin.com website and "Sign-Up" as well.
If you do have any questions, regarding any of the above, please FB message me ASAP.
And yes, now that we have figured out the complexity of offering OnLine Shao-Lin training, we WILL continue to offer weekly lessons, as it is not only of benefit for many of you, when life gets hectic, but also for all of our remote Shao-Lin students, who have asked for years if there was a way for them to continue training in the Art.
In fact, we have had quite a few inactive and remote Denver Shao-Lin students, of all Levels (White thru 6th Black) who have, over the past 2 weeks, signed-up and purchased a membership, to re-start their Shao-Lin Experience once again, from many states, and even in Europe.
Our next step this month, will be to begin offering "Private OnLine Instruction/Lessons" for those needing specific training, based on their Belt Level or interest.
Sr ElderMaster Sharon and I also want to thank many of our more advanced/senior students for going ahead and renewing their membership(s), even if they weren't coming due until this Fall or next year 2021. Their understanding and continued dedication to the school and the Art is greatly appreciated.
And with that said, we wish all of you Health, Happiness and Longevity.
Please do take the time to look over the below Groups, and FB message us if you have any confusion about how to join-in.
Stay well,
David and Sharon
8th degree Senior ElderMasters
Co-Owners/Instructors
Chinese Shao-Lin Center- Kung Fu / Tai Chi / Wooden Man
(Est. 1979)
800.Shaolin
www.Goshaolin.com
www.Shao-Lin.com

6 Shao-Lin "Zen Forest" Groups
Shao-Lin Zen Forest Lower Belt / Tai Chi Group
Shao-Lin Zen Forest Wooden Man / iron Monk Group
Shao-Lin Zen Forest Wooden Man Part XII+ Group
Shao-Lin Zen Forest Brown Belt Group
Shao-Lin Zen Forest Black Belt Group