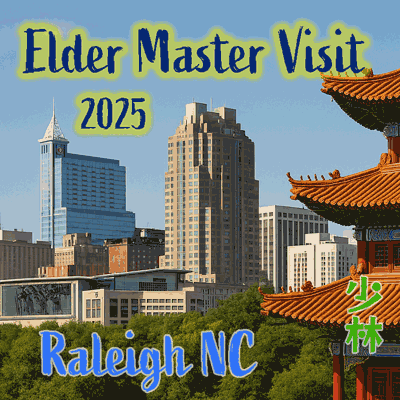 New Year's Greetings Shao-Lin,
The end of the year has now arrived, and as Elder Master Sharon and I reflect on all the exciting and fun experiences of 2018, we are also very excited to be sharing the surprises and challenges of 2019!
With the New Year, are "NEW" beginnings and opportunities!
What an exciting time for every Shao-Lin student, with ALL the FUN, exciting and amazing travel and training in-store for 2019!
And it is "Never" too late to continue to challenge oneself with each of the areas that our ART offers and provides!
Tai Chi / Kung Fu / Wooden Man / Meditation & MORE!
It is always a pleasure to walk into classes, full of spirited and dedicated students of all ages, backgrounds, experiences and skills!
A more diverse and enthusiastic group of individuals does not exist anywhere else!
Each year as we all move forward towards our goals and pursuits, we realize that how grateful we are for such opportunity to enrich our Mind, Body & Spirit, with this ancient discipline!
Our first Annual Shao-Lin Festival/Visit will be hosted by Master Tanisha and her students in Colorado Springs in February (10,000 Lotus Blooming), followed by trips to Raleigh in March with Sifu Mo (The 8 Taoist Immortals Drunken Spear form), and Albuquerque in April with Master(s) Abram & Leslie (The Shao-Lin Classical Double Wood Chisels)!
Lots of travel, both throughout the US, and to Spain, are in-store for 2019. Not to mention the "Middle Kingdom" China!!!
What an opportunity to encounter so many spirited and dedicated students, enjoying the Art and all its challenges and rewards!
Again, a Big Thank You, to all those who opened their homes, and lives, to traveling Shao-Lin, and making each visit unique and exciting.
In 2019, many Black Belts of various levels are continuing their Pre Testing towards their next belt level, and additional opportunities are available to continue Pre Testing and preparing for their advancement in 2019 or 2020!
As usual, our Wooden Man - Iron Monk/Iron Bone training continues into it's 5th year!
Many "new" students of ALL belt levels, have just signed-up, and begun their Shao-Lin Wooden Man / Iron Monk experience!
And the invigorating & serene Dragon Meditation continues on Saturdays in Denver, for those looking to relieve stress, improve concentration, cultivate chi, and improve overall health!
Wishing you a very Happy & Healthy & Challenging New Year,