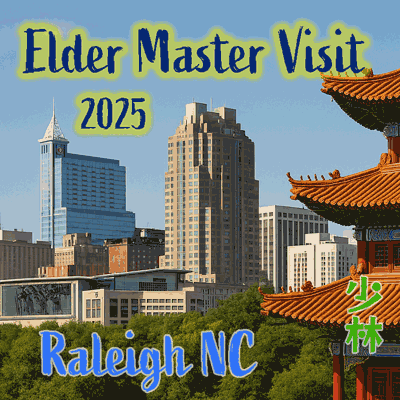 August Greetings Shao-Lin,
Now that we have ALL survived the "HEAT" of Summer, due to our Air-conditioned training environment, we are entering the last month of Summer,
and the Last Weapon for Brown Belt training & advancement! The "Famous" Tao – Classical Chinese 8-Directional Broadsword!
And many of the Tai Chi & Lower Belt students are preparing for advancement this coming month, as well!
This month Black Belts are now beginning training within one of the Most Ancient & Dynamic areas of Kung Fu – the Northern Tan Tui – Springy Leg skills!
And our Senior Black Belts begin learning the rare & colorful Taoist 8 Drunken Immortals' Double-edged Sword on Saturday mornings!
As usual, our Wooden Man - Iron Monk/Iron Bone training continues into it's 5th year this Summer!
We have NOW begun, for the 1st Time, Section XI, which utilizes weapon training with the Wooden Man!
And many "new" students have just signed-up, and begun their Shao-Lin Wooden Man / Iron Monk experience!
Also the invigorating & serene Dragon Meditation continues with Part X, for those looking to relieve stress, improve concentration, cultivate chi, and improve overall health!
Also be sure to practice your double-ended staff spins & techniques, as the exciting and dynamic Pang Vs Pang – 2-Person Staff Fighting Set is on Thursday, August 9th @ 6PM! Testing to follow!!!
Note that the Brown Belt PreTest (Sunday 8/1212noon) and the Black Belt PreTest (Sunday 8/19 8am) & Brown Belt TEST (Sunday 8/19 12noon) are fast approaching, so come in to polish & review – 6 days a week!
We will also be holding another "2019 CHINA Trip" meeting on Sunday 8/19 2pm, following all of the Testing that day! So be sure to bring all of your questions, and we'll once again be sharing a few new details and exciting info, regarding the upcoming Tour!
Last, but not least, we have the Annual End-of-Summer FESTIVAL following all of the days Events @ 3PM Sunday August 19th!
It is the rare: Fujian WHITE TIGER Trigram Chopping Fist – from Southern China!
(Note the attached Flyer for more details)
Looking forward to seeing everyone as we end the summer with all of the exciting training and advancements!
See you soon!
Zai jian