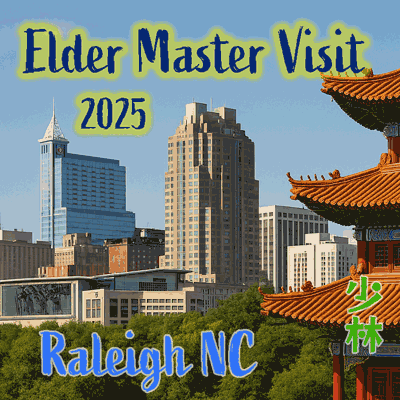 December Greetings Shao-Lin,
The end of the year has now arrived, and ElderMaster Sharon and I are reflecting on all the exciting and fun experiences of 2018! Lots of travel, both throughout the US, and to Spain, as well! Encountering so many spirited and dedicated students, enjoying the Art and all its challenges and rewards! Thanks to all those who opened their homes, and lives, to traveling Shao-Lin, and making each visit unique and exciting.
As we also mentioned last month, we have been focusing on the concept: Gratitude! As we have been learning and discussing during the Dragon Meditation classes the past few months, the Art of showing/giving Gratitude is so beneficial on ALL levels! We have the gift of life and health, along with the gift of friends and family. And we're all fortunate for the gift of this amazing Art, to challenge and inspire us - mentally and physically!
As the Brown Belts prepare for their December 9th TEST, the Black Belts are now beginning their 4th Shantung Black Tiger form, and also beginning on Saturday 12/1 the Classical TIGER/CRANE ancient Kung Fu form!
Many Black Belts of various levels are continuing their PreTesting at Denver on December 9th towards their next belt level in 2019, and additional opportunities to continue PreTesting and preparing for advancement, in February @ Colorado Springs, March @ Raleigh, and April @ Albuquerque.
As usual, our Wooden Man - Iron Monk/Iron Bone training continues into it's 5th year! Many "new" students of ALL belt levels, have just signed-up, and begun their Shao-Lin Wooden Man / Iron Monk experience!
And the invigorating & serene Dragon Meditation continues on Saturdays in Denver, for those looking to relieve stress, improve concentration, cultivate chi, and improve overall health! And in 2 weeks many will complete their Shao-Lin travel for the year of 2018, with a visit to the Chinese Shao-Lin Center in Denver on December 9th , featuring another of our Fun & Unique styles - The MONKEY'S MAGICAL DISAPPEARING STICK!
Happy Holidays and New Years to All ~ Zai jian