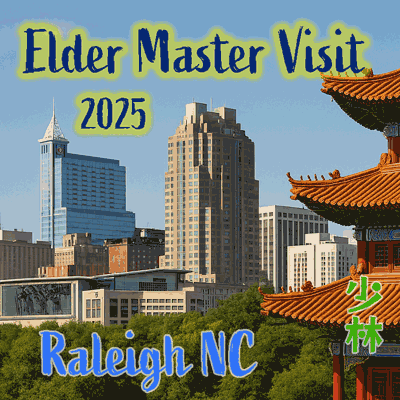 With the arrival of JUNE, our Shao-Lin Black Belts are preparing for their advancements within this Amazing ART!
A few advancing from Associate Master Level into "Full" 6th degree Black Belt MASTER!
Our Black Belts continue their weapons training, moving from the elegant southern spears, to the Dynamic Tornado Double Broadswords!
Brown Belts completing the legendary Monkey King's "Sea Dragon Cane", from the classic novel - 'Journey to the West', they begin their Classical Waxwood Single-ended Southern Staff! Our Senior Black Belts begin "playing with their 3-Sectional Staffs and 9 Section Steel Whips in June.
During the Annual Shao-Lin Test and Festival Weekend, we'll be offering for the 1st time, the Rare & Internal - General Yueh Fei's HSIN I CHIEN – Heart-Will Sword and Heart-Will MEDITATION! Preceded Sunday morning 6/24, by the FREE Push-Hands/Free Sparring Seminar @ 9am, and the next 2019 China Trip meeting @ 10:30am.
As usual, our Wooden Man - Iron Monk training continues into it's 5th year this Summer! And the invigorating & serene Dragon Meditation continues with Part VIII! And be sure to practice your nunchaku spins, as the Single Nunchaku Festival is also this month.
Looking forward to a challenging and exciting Summer of Kung Fu at our Shao-Lin Centers.
See you soon!